GO PURE
The crunchiest chips !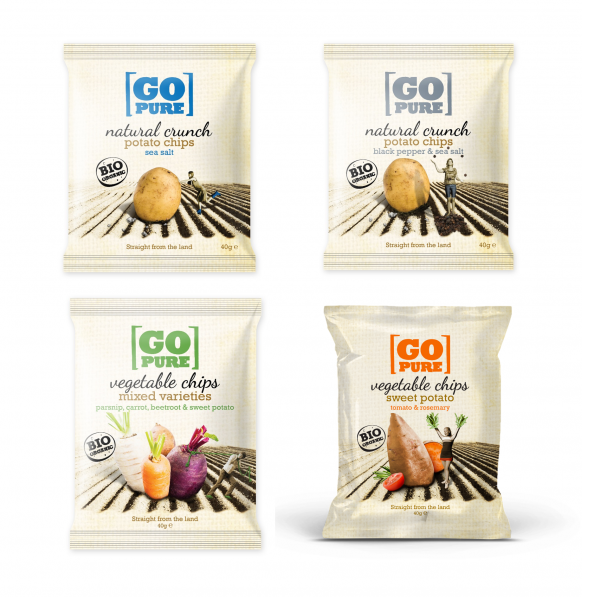 Irresistibly tasty delicious potato chips with an intense, full flavour. All natural and traditionally made: potatoes in their peels and hand cooked in 100% organic sunflower oil, so guaranteed to crunch ! Topped off with a pinch of sea salt. For these chips, we use only the best organic potatoes.

Deliciously crispy potato chips with a pinch of black pepper to stimulate the taste buds. After washing them, the (unpeeled) potatoes are cut into very thin slices and fried in 100% organic sunflower oil. This is the secret of the special crunch that makes our organic, hand cooked Go Pure chips so temptingly delicious.

Go Pure organic vegetable chips have everything: the perfect crunch, refined flavours and different textures. No wonder: each bag of Go Pure vegetable chips contains a rich arsenal of carrots, beetroot, the 'forgotten' parsnip and sweet potato. It also goes without saying that these organic vegetables are all hand cooked in 100% organic sunflower oil. The only thing we add is a pinch of sea salt.

This vegetable chips combines the refined flavour of sweet potato with the freshness of tomato. A hint of rosemary adds a Mediterranean touch. These chips will have you licking your fingers! Obviously, all ingredients are 100% organic and the chips are cooked in small batches.